How College Media Can Plan For the Worst
By Carolyn Schurr Levin
---
In December 2012, College Media Review reported about the effects of Hurricane Sandy on the Pioneer at LIU Post on Long Island, and the College Voice at Mercer County Community College in New Jersey.  Both campuses shut down, students were sent home, power was lost for days and publishing the student newspapers was, to put it mildly, a challenge.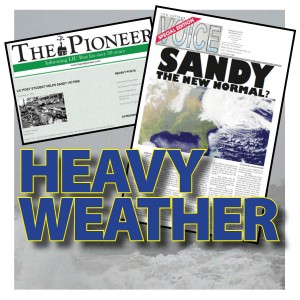 In the case of the Pioneer, the outside printing company for the newspaper couldn't have printed the paper even if it had had power; it lost its roof to the storm. The 2012 CMR article, "When Disaster Strikes A College Community," advised college media organizations to make contingency plans in the event of an unanticipated catastrophe similar to Hurricane Sandy.
Yet, over a year later, an informal email survey of college media advisers suggests that many organizations do not yet have such contingency plans.