— and motivates rack pickups
By David Simpson
Director of Student Media
Georgia Southern University
---
If you want a college student to read a newspaper, hand it to her.
That may not sound profound, but it's the most important lesson I've learned about circulation at two colleges where I've worked.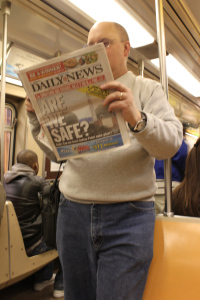 At Georgia Southern University, we were printing 3,500 copies of The George-Anne newspaper on Tuesdays and 4,500 on Thursdays (for an enrollment of about 20,000) in January 2014. On some days, a large chunk of those papers remained on racks until they were recycled.
In spring 2015, we printed 5,500 copies on both Tuesday and Thursdays.Returns on a bad day were around 10 percent. The difference was the Street Team.
Eight students on a modest stipend worked two-hour shifts just standing at a busy spot and saying, "Hi, have a newspaper." Every Tuesday and Thursday, they put 2,800 papers directly into the hands of students. (OK, every now and then there was a problem, but when we were fully staffed and doing it correctly, all those papers were handed out.) Continue reading "Handing out papers builds overall awareness of the product"