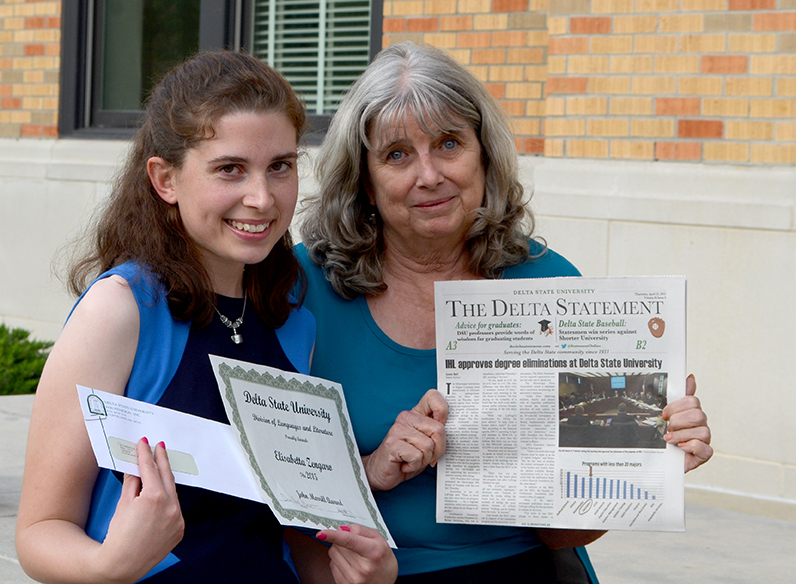 Delta State's adviser loses battle with cancer
 By Elisabetta Zengaro and Debra Chandler Landis
Special to College Media Review
While the late Patricia Roberts battled ovarian cancer, she also fought for college journalism at Delta State University in Cleveland, Mississippi.
She did both with grit and grace, and her journalistic legacy continues, say those who knew her.
Roberts, 66, adviser to The Delta Statement student newspaper and the university's sole journalism professor, died Dec. 7 from complications from chemotherapy. A memorial service was held at the Bishop-King Funeral Home in Lake Village, Arkansas, on Dec. 11.
In spring 2015, the Mississippi Institutions of Higher Learning Board of Trustees approved the discontinuation of five academic programs, including journalism, communications/theater studies, and modern foreign languages, at Delta State University.
The university also decided to eliminate money for printing of The Delta Statement.
Roberts told the Student Press Law Center, Huffington Post and other media organizations the plan to eliminate the journalism program was announced after a Statement story about a lawsuit a former Division of Languages and Literature chairman filed against Bill LaForge, Delta State University president. However, LaForge denied the move was retaliatory, and said the $1 million budget cuts were university-wide.
Throughout it all, Roberts never lost hope. Continue reading "A remembrance: Patricia Roberts"