Come to DC: It's More than the First Amendment
Oct. 31-Nov. 3, 2019 • Grand Hyatt • Washington, D.C. • #collegemedia19
By Carol Terracina Hartman
In partnership with Associated Collegiate Press, College Media Association returns to Washington, D.C. for its annual fall convention this year. Speaker highlights include a slate of keynote speakers: Capital Gazette Editor Rick Hutzell, accompanied by Gazette reporters Danielle Ohl and Alex Mann.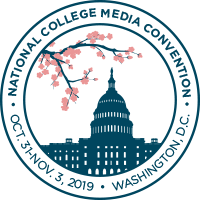 Attendees also will welcome Washington Post executive editor Marty Baron of "Spotlight" Fame, NPR's Nina Totenberg, and CNN's Abby Phillip.
Convention offerings this year – 275 of them! – include career workshops, tech tips, media management and skills-oriented sessions such as photojournalism and design. Whether digging into data is your gig or jazzing up entertainment reviews is your goal, find it in the conference schedule.
Continue reading "Preview: ACP and CMA annual Fall National College Media Convention"