A-STATE HERALD PUBLISHES TRIBUTES FROM STUDENTS, COLLEAGUES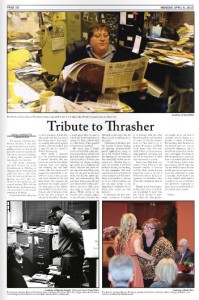 College Media Association Vice President Bonnie Thrasher, 53, of Jonesboro, Arkansas, died March 31, 2015 at her home.
Born July 7, 1961 in St. Charles, Missouri to Bill and Beverly Thrasher, Bonnie resided the last 22 years in Jonesboro after spending time in Tuscaloosa, Alabama and Starkville, Mississippi where she attended college and graduate school. She was of the Baptist belief.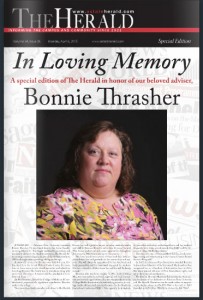 She was a member of the Arkansas State Media Board and adviser to the A State Herald. She served the national College Media Association in numerous volunteer positions, as secretary, treasurer and as Vice President at the time of her death. 
Bonnie loved painting, cooking, and volunteering at The Greene County Animal Farm in Paragould, Arkansas. Bonnie was also a National Merit Scholar, showed cattle, played softball, and track & field.
She is preceded in death by all of her grandparents.
Bonnie is survived by her parents: Bill and Beverly Thrasher of Cypress Inn, TN; one brother: Brian and Wife (Jennifer) Thrasher of Corinth, MS; one sister: Becky Thrasher of Aurora, MO; one niece: Lindsey Thrasher of Corinth, MS; two nephews: Torry Thrasher of Corinth, MS, Blaine and wife(Claire) Thrasher of Olive Branch, MS and aunts, uncles, and cousins.
A visitation will be held from 4 p.m. – 6 p.m. Friday, April 3, 2015 at Arkansas State University, In the Grand Hall in the Fowler Center with Emerson Funeral Home in Charge of arrangements. In lieu of flowers family ask to please consider donations to The Greene County Animal Farm: 1261 Greene 739 Road Paragould, AR 72450
Online Registry: www.emersonfuneralhome.com
Adapted from Emerson Funeral Home obituary with added information