Providing an international perspective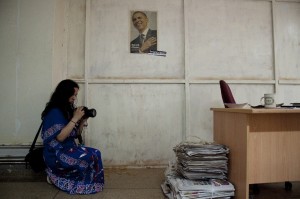 Many journalism schools offer study-abroad opportunities, which may include year- or semester-long exchange programs or shorter-term faculty-led trips.
These journalism programs are open to students from any school:
Institute for Education in International Media — http://ieiMedia.com
ieiMedia offers four-week summer study-abroad programs that teach a variety of media skills (multimedia storytelling, videojournalism, blogging and photojournalism), as well as international reporting techniques, such as how to conduct an interview using an interpreter and how to find stories in foreign places. ieiMedia partners with different universities, which grant academic credit for the programs, and courses are taught by a team of veteran journalists and journalism professors. Students publish their work on a website, and sometimes in a print magazine or book; this summer students will also develop digital magazines for the iPad. In 2013, ieiMedia will sponsor summer programs in Jerusalem, Israel; Istanbul, Turkey; Perpignan, France; Urbino, Italy; and Armagh, Northern Ireland.
School for International Training/Round Earth Media Field Studies in Journalism and New Media — http://www.roundearthmedia.org/
Co-sponsored by SIT and Round Earth Media, this 15-week, 15-credit program set in Rabat, Morocco, offers students an immersion in global reporting. Students study with veteran foreign correspondents and partner with local journalism students. They produce a full-length feature project; the best are published by professional media outlets.
Europe in the World — http://europeintheworld.com
This one-year program, co-sponsored by the Utrecht School of Journalism and the Danish School of Media and Journalism, begins in Utrecht with a semester studying European history, politics, environmental policy and economics.  Students then move to Aarhus, Denmark, where they focus on international journalism and work on an internet magazine about Europe. Students travel to different parts of Europe to report for the magazine on a range of foreign policy issues. The culmination of the program is a major independent journalism project. Students from all over the world participate.
 Lexia Journalism and Urbanization program — http://www.lexiaintl.org/shanghai/58-journalism
Lexia offers programs in a variety of disciplines in a dozen cities around the world. The Shanghai Journalism and Urbanization program emphasizes a cross-disciplinary approach and draws on journalistic perspectives to help students grasp the historical, social and cultural context of China. Students can choose whether to study in Shanghai for a five-week summer term, a semester, or the academic year.
---
Rachele Kanigel in an associate professor of journalism at San Francisco State University, where she advises Golden Gate Xpress, the student newspaper. She is also executive director of the Institute for Education in International Media (ieiMedia), which sponsors summer study-abroad and internship programs for students and young professionals. She has directed study-abroad programs in Urbino, Italy and Perpignan, France and plans to lead ieiMedia's new program in Israel in the summer of 2013.