Spring Convention is March 7-10 in NYC
By Lisa Lyon Payne
CMR Editor
Advisers interested in dipping their toes in the academic research waters of college media are invited to attend a session on publishing opportunities in College Media Review at the CMA Spring National College Media Convention in New York March 7-10.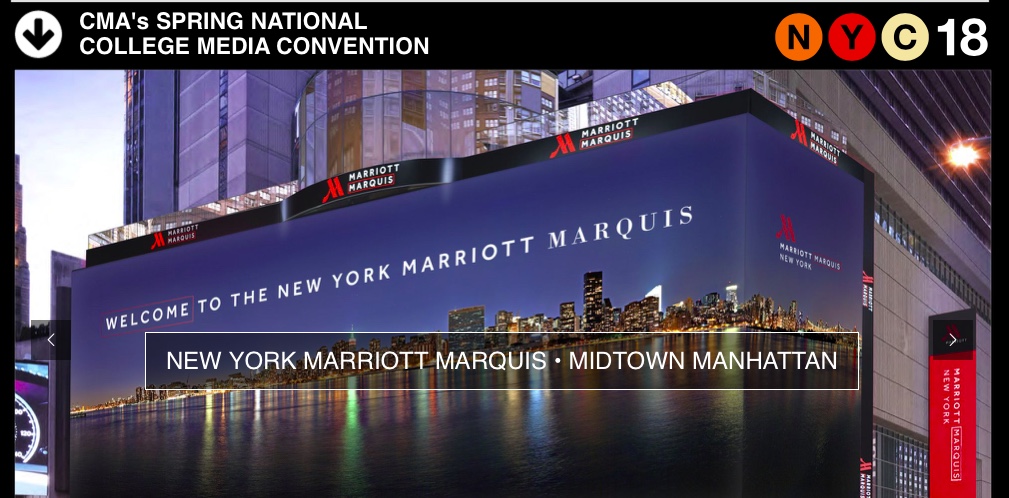 The session is designed to encourage and motivate both established and emerging scholars to consider a contribution to CMA's research journal. For those interested in the idea of research, but unsure where or how to start, consider the following five ideas to jump start your scholarship:
Play to your strengths. Research on pedagogy and experiential learning is sometimes possible, which can include practical implications or valuable "take home messages." Use lessons and innovative teaching ideas as seeds for research topics. Determine how this topic might fill a gap in the literature, and stay within your comfort zone methodologically.
 Use student help. It's not necessary to be at an institution with your own graduate research assistant to get good help;  honors students, independent studies, research methods classes and upper level class projects are all possible resources, even if it's just to get some help gathering literature. Some bright and motivated students will even be willing to collaborate for a resume builder. Also, start small. An idea might start out as a independent study or other class project and develop from there.
Mine the gold. Make data gathering worth it. Carve out multiple scholarship opportunities while you're at it. Think about this goal when you are crafting your research questions. It's often possible to get more than one paper out of the experience by building in multiple measurements or variables that examine a problem from different perspectives.
Seek collaboration opportunities. Reach out to colleagues, including  those at your institution, even those in other departments.  Often, other disciplines like anthropology, political science, sociology, psychology and business have a media or communication angle to research questions. Also, consider like-minded colleagues at other schools who are interested in similar topics like college media. Sometimes, having a co-author is a great way to make sure you are making steady progress.
Keep lots of folders. Ideas are everywhere. Just because you start a folder (either digital or paper) with a newspaper snippet, doesn't mean it's destined to become a full-fledged research manuscript. But opening a folder of possibilities can provide a landing pad when you're ready to launch the idea into a greater research project.
Time and date details of the research session at the CMA spring conference are forthcoming. This opportunity will be geared toward advisers who want to get feedback on potential or working research projects, brainstorm ideas or connect with colleagues interested in collaboration.