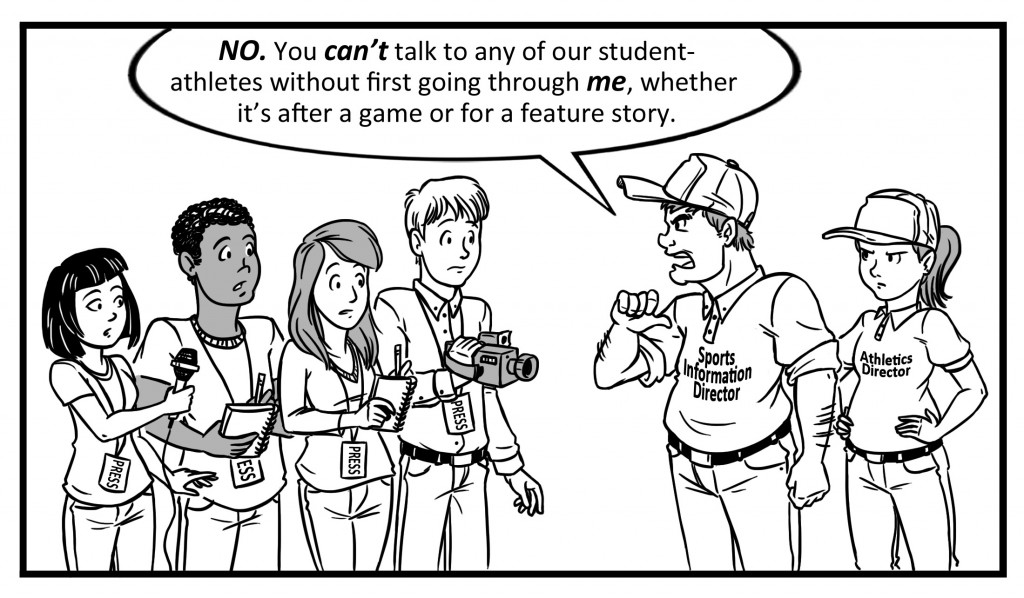 By Justin Schneewind
 Needing prior permission to interview college athletes and coaches has become the norm rather than the exception for college and professional sports journalists, who must often first go through the school's sports information director or athletic director.
That goes for in-depth pieces and after-game interviews, in-person interviews, texts, e-mails, Facebook and other forms of communication.
Sports information directors, with the blessings of their athletic directors, are increasingly forbidding journalists to communicate with players or coaches unless the communication has been arranged first by the sports information director or other one of the sports information director's staff.
Journalists say the schools are trying to "control the message." Athletic departments say they want to minimize the demands on student-athletes' schedules and note that social media make it easier than ever to encroach on athletes' time.
Sports information staff, athletic departments say, are the ideal coordinators of interviews because they know athletes' schedules when it comes to classes, practices, workouts, study sessions and team meetings. They can also block access to players who, for whatever reason, are not allowed by their coaches to talk with the media.
Despite the annoyance and inconvenience of the restrictions, there are steps sports journalists can take to build better relationships with their sources in the athletics departments—and consequently be in a better position to break sports stories and produce the best stories, photos, columns and other content they can.
Consistently attending games and practices, developing relationships with coaches, student-athletes and administrators, and regularly communicating with sports information staff serve as basic but vital steps for securing time with athletes and coaches.
That may be easier for newspapers than broadcast outlets. Newspapers typically have larger reporting teams and more dedicated beat reporters than broadcast outlets, said John Nicholson, professor of practice/broadcast and digital journalism. Nicholson is director of the Sports Media Center in the S.I. Newhouse School of Public Communications at Syracuse University.
Nicholson noted, for example, that the relationship-building that results from beat reporters' consistent coverage yields a considerable advantage in securing access, especially in a time of more and more restrictions.
The restricted access will eventually hurt college athletics as less coverage leads to less interest, according to Joe Gisondi, professor of journalism at Eastern Illinois University. Gisondi is author of Field Guide to Covering Sports and a former sports journalist with more than 20 years of experience.
The trend of "sequestering athletes" to protect the departments' image will not likely end soon, he said.
"It used to be that sports information directors were there to facilitate coverage. Now they're there to protect a corporate image. It's bad for fans and athletes," said Gisondi, who has previously written on the issue of access and athletics for College Media Review.
The efforts to control the message and the way content is used has increased, said Syracuse's Nicholson, who has more than 40 years of experience as a broadcaster.
Efforts to control messages and content, he said, have spread beyond sports media, meaning all sectors of the newsroom will likely need to learn the procedures becoming common to college sports journalists if they have not done so already.
College sports journalists must put in the work to build relationships to ensure they have access, but they need to understand that their roles as reporters mean they are no longer fans, Nicholson said. In an era of increasing departmental control, they must also have an understanding of the laws often cited as reasons for restricted access, primarily the Family Educational Rights and Privacy Act and the Health Insurance Portability and Accountability Act, and the limitations of those laws.
Knowledge of the rights of the media, an understanding of the responsibilities of journalists, and a dedication to balanced and aggressive reporting has made students, especially in situations of limited access, stand out in the eyes of Berry Tramel, sports columnist for The Oklahoman.
As a sports journalist with more than 36 years of experience, Tramel often finds himself reporting alongside journalists from college media outlets. He sees that the quality and content of journalistic training play an important role in student journalists' ability to produce top work, even with less access.
College sports information staff juggle a lot of duties, Tramel said. Among those duties are the following: dealing with administrators intent on promoting and preserving their school's image; working with coaches who may be wary of the media and want to protect their athletes; and reporters calling daily for interviews.
Restrictions on interactions with the media have been especially visible in football. A growing number of large programs prevent media access to freshmen or players in their first year. Texas A&M, in 2012, barred media access to then-freshman quarterback Johnny Manziel—until just a few days before he became the first freshman to win the Heisman Trophy.
"Coaches definitely try to control and limit distractions. For some reason, they see media as a distraction," said David Bassity, associate athletics director for communications at the University of Houston. He added that in many cases these restrictions appear to be cases of coaches trying to ease players' transitions from high school into more competitive and higher profile college athletics.
Tramel, the sports columnist for The Oklahoman, highlighted a situation in which a coach's media restriction seemed fueled more by ego and control in a November column. Oklahoma State football coach Mike Gundy, who prevented media access for his quarterbacks throughout the season, denied starting quarterback Clint Chelf the opportunity to be on ESPN's highly popular "GameDay" show, instead sending himself to the set.
Whether instituted by coaches or administrators, the decline in access bears an impact on the sports information staffs responsible for allowing or preventing access.
"Our job is to promote the program. It's tough to promote the program when we can't put those players out there," UH's Bassity said.
Those efforts to promote the programs through media coverage may be compromised by the lack of access, but athletic departments have increasingly promoted and covered themselves through their own media.
"Some schools see media as competition. They want to draw traffic to their site to bring attention to their sponsors," Bassity said.
That may mean fulfilling media requests while competing with traditional outlets or pursuing exclusives that in the past would have been pitched as stories to reporters.
Student journalists covering their campuses' athletics programs do so in an increasingly complex environment with greater control and less access, but they can succeed by adhering to basics principles and practices of journalism.
College sports journalists are still in a learning period.
"Hopefully coaches, as teachers, understand this," Eastern Illinois' Gisondi said. "And I think most do."
Basics for ensuring access with athletics
Build relationships with coaches, athletes, administrators.
Remain in consistent communication with sports information staff.
Attend games and practices regularly.
Dress and act like a professional to be treated like one.
Plan ahead to minimize or eliminate last-minute requests.
Ensure coverage remains fair and balanced.
Be knowledgeable of laws impacting information and their limitations.
---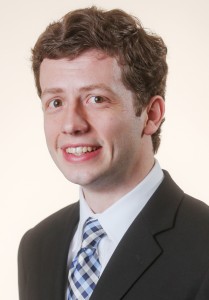 Justin Schneewind has worked for the University of Houston's Center for Student Media since 2012, primarily advising The Daily Cougar. He has more than five years of experience at the Houston Chronicle. He graduated with a bachelor's in journalism and history, where he worked for four years at the student newspaper, and he is currently enrolled in the MBA program at UH.