Come to DC: It's More than the First Amendment
Oct. 31-Nov. 3, 2019 • Grand Hyatt • Washington, D.C. • #collegemedia19
By Carol Terracina Hartman
In partnership with Associated Collegiate Press, College Media Association returns to Washington, D.C. for its annual fall convention this year. Speaker highlights include a slate of keynote speakers: Capital Gazette Editor Rick Hutzell, accompanied by Gazette reporters Danielle Ohl and Alex Mann.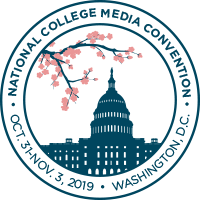 Attendees also will welcome Washington Post executive editor Marty Baron of "Spotlight" Fame, NPR's Nina Totenberg, and CNN's Abby Phillip.
Convention offerings this year – 275 of them! – include career workshops, tech tips, media management and skills-oriented sessions such as photojournalism and design. Whether digging into data is your gig or jazzing up entertainment reviews is your goal, find it in the conference schedule.
Topping the program for advisers is the annual peer-reviewed research papers presentation. Reserve time on your calendar for this session using the conference app on Saturday, Nov. 2 at 1:30 p.m. CMA Research Chair Dr. Elizabeth Smith of Pepperdine University will moderate presentations of  the top research papers on various college media issues. Content may include trends among college media outlets and present an in-depth look at results, pointing out how advisers also can develop similar research projects.
Looking for work? Grab notebooks and business cards and head to a Saturday session "Landing a Media Job Today" at 12:30. The session will focus on career advice and job hunting tips with recruiters and editors from POLITICO, The New York Times, The Washington Examiner, The Chronicle of Higher Ed, and others. Immediately following is a Career Expo in which attendees can meet reps in person.
Other helpful conference sessions include: Making the Most of Your First Journalism Job; Breaking into Broadcast News; How to Land an Internship – and Turn It Into a Job, and more.
Don't forget to take advantage of the on-site critiques, the Photo Shoot-Out, and Register for the ACP's Best of Show contest and CMA's Film and Audio Festival. Arriving early? Check out the pre-conference schedule of workshops; pre-registration is required, so sign up soon!
Downloading the conference app guarantees access to current session details should they change from the printed conference program. Organizers will send notifications throughout the day, so check frequently.
Be sure to keep in touch in the run up to the conference and while attending #collegemedia19. Let us hear from you!