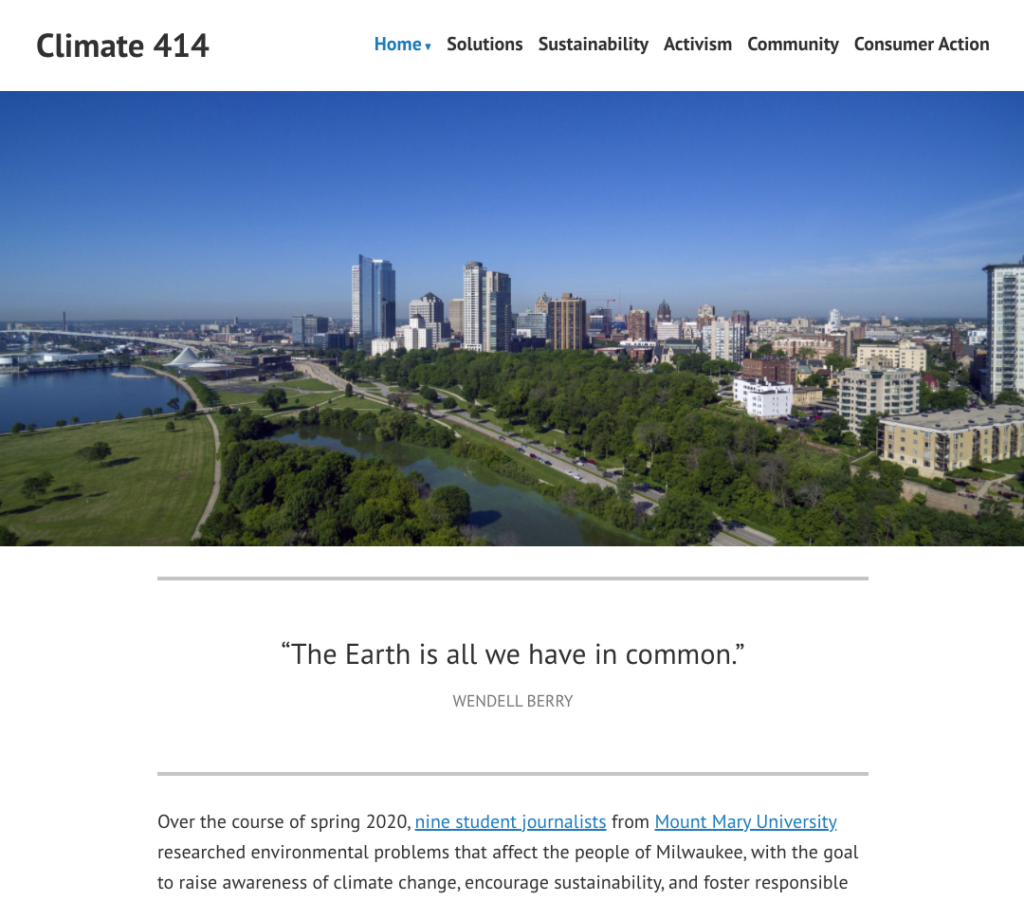 Thinking outside the box
Special to College Media Review
The press release from the Associated Collegiate Press put it rather succinctly, "The Innovation Pacemaker is designed to encourage out-of-the-box thinking and reward student media for the courage to take chances to improve service to their customers, readers and communities."
Gary Lundgren, ACP associate director, said the award, new in 2020, was a logical extension of the existing Pacemaker awards that have been around for nearly a century.
"The Pacemaker is widely considered one of the most prestigious awards in collegiate journalism," Lundgren said. "The Innovation Pacemaker reflects the quickly changing college media landscape. It is no longer as simple as delivering newspapers to racks all over campus. New revenue models are essential for survival. New content delivery channels are required to stay relevant in a digital world."
Lundgren said ACP created the award to encourage and recognize forward-thinking in college media.
The eight finalists and three Innovation Pacemaker recipients did exhibit innovation, innovation for their program, their school or for all of college media.
Kaela Johnson one of the leaders on the project from University of Guelph-Humber, said, "The excitement hasn't worn off since we won the Pacemaker – I don't think it ever will."
INNOVATION PACEMAKER RECIPIENTS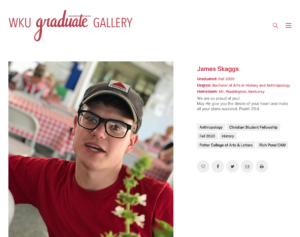 Cherry Creative
WKU graduate gallery
Western Kentucky University
Bowling Green, Kentucky
Leader: Hayley Robb
Adviser: Sam Oldenburg
Tell me a little about your project.
Oldenburg: The Graduate Gallery is a place for parents to celebrate their WKU graduates online, despite not being able to celebrate in-person in the normal ways this year. Parents who purchased a page submitted a message for their child along with up to 10 photos, and the pages were posted in a responsive gallery that's searchable by a number of different criteria. Ultimately, I think it's about providing something that looks cool and professional that parents can then use to brag on their kids.
When I was young, if I had any sort of accomplishment, my parents would put the certificate on the fridge. If I were in the newspaper, they would cut it out and stick it on the fridge. Today, social media is that fridge, so we wanted to create something that parents could easily share on their Facebook accounts to celebrate their graduates.
How did the idea come about?
Oldenburg: We had planned to start selling "baby ads" in our graduation special section last year, similar to what many other schools have been doing for a long time.
Back in the fall of 2019 we started looking into how other schools handle the ads, researching what to use to facilitate online orders, arranging to accept credit card payments online, creating templates and figuring out all of the logistics necessary to start offering something new. We were about ready to launch sales through an online order form in March when the pandemic shut everything down, and everything we thought was going to be possible went out the window.
Out of necessity, we switched gears and came up with a brand new digital product instead within a couple weeks. Within about a day or two of WKU announcing the move to online, while students were on spring break, I had a vision in my head for what I thought the site could look like, but with little idea how to make it work and no idea how to explain to anyone what I had in mind.
I ended up finding a WordPress template that was very similar to what I had in mind, and with that I was able to show Hayley and the rest of the Cherry Creative editors what I was thinking the following Monday as soon as their spring break was over. They were quickly on board, and together we brainstormed more functionality, sorted through many more WordPress templates to pick what we thought would work best, and customized the site to meet our needs.
They came up with branding elements and a marketing plan, and we were off to the races. Three weeks after WKU announced classes would be online, we sent the first marketing email to parents. Then we came up with a workflow to process orders and build pages that involved all of the Cherry Creative editors.
We ended up with 115 orders, which was much more than we would have ever imagined getting for our first try at baby ads in print.
What do you think is the innovation?
Oldenburg: Part of the innovation was in taking something intended for print and making it a digital product instead. That certainly isn't a new concept, but I think why it worked so well is that we didn't get trapped in a print-first mindset. We didn't simply take a print product and throw it online, maybe adapting it with a few modifications. Instead, once we threw print out the window, we took a digital-first mindset and started from scratch to come up with something that truly took advantage of the medium.
The less obvious, but perhaps more important, innovation is in who the client base was for this product. We're no strangers to coming up with new products and offerings — like so many other schools, we've been adapting to survive, trying to come up with a lot of new products in recent years. However, for every other product we offer, the client base is largely the same — local businesses. Despite coming up with new products, we're only ever going to be able to squeeze a limited amount of revenue out of local clients by going to the same businesses over and over with different products. That became painfully clear during the spring when businesses were closed or operating with severe restrictions and had very little money they could afford to spend on marketing.
With the Graduate Gallery, the primary clients were parents, so by tapping into a different market that still had some money available to spend we were able to make this the only real bright spot for revenue in the first part of the pandemic.
Where does it go from here?
Oldenburg: We're selling pages on the Graduate Gallery again this semester, although there are fewer graduates in December, so there haven't been as many sales. Eventually we will probably incorporate a printed graduation guide into what's sold for the Graduate Gallery — perhaps in the spring if there is indeed a graduation ceremony as the university has said is planned. It will be interesting to adapt a digital-first product to also be a print product, instead of the other way around as usually happens. Part of the challenge will be balancing an increase in prices to cover the cost of print without charging more than parents in our market might be willing to pay. The students who worked on the Graduate Gallery and I all thought it turned out being something a lot cooler and more interactive than we could have done in print, so incorporating a printed product and determining whether there is indeed enough of an appetite for that among parents will be an interesting challenge.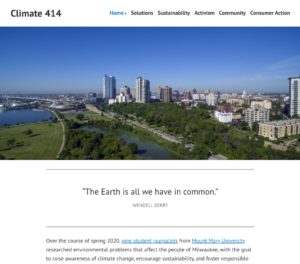 Arches
Climate 414
Mount Mary University
Milwaukee, Wisconsin
Leader: Quinn Clark
Advisers: Linda Barrington, Laura Otto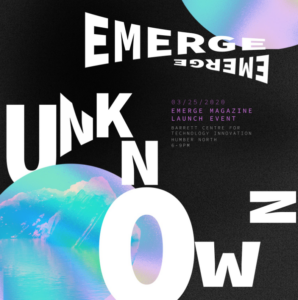 Emerge Magazine
EMERGE: Unknown
University of Guelph-Humber
Toronto, Ontario, Canada
Leaders: Alena Blanes, Danya Elsayed, Kaela Johnson
Tell me a little about your project.
Johnson: For many soon-to-be graduates, there is a fear of the unknown. They often question their career and wonder how they might fit into an ever-changing landscape. Our event sought to alleviate some of that.
EMERGE: Unknown would have engaged University of Guelph-Humber Media Studies students across all four years and all streams in the first-ever magazine launch event.
We wanted to celebrate the leaders of tomorrow, by showing them the media's journey of the past, present and future through innovative activations and inspirational speeches from past alumni.
Our aim was to have guests leave the event with valuable connections for their network and the confidence to say, "I am the future of media."
How did the idea come about?
Johnson: While organizing an event in our third year, Danya and Kaela noticed how little engagement Emerge, and specifically, the magazine received.  It was supposed to be the focal point, but instead was forgotten about in the slew of party favors in guest gift bags.
And then, a lightbulb moment for Danya. It was brilliant and straightforward: throw the first-ever magazine launch for Emerge. The event would be two-fold. Teach lower-year students about Emerge, and bring the attention back to the award-winning magazine. This was our vision for Emerge when we got to our fourth year.
What do you think is the innovation?
Johnson: Innovation is a creative endeavor. It requires a combination of unique skills, experience, and ingenuity to find solutions, or create better systems to advance the success of a project. Each decision we made for our project was guided by our commitment to innovate the 10th-anniversary edition of Emerge magazine.
Like Emerge's theme, the Tipping Point, we wanted to create an elevated launch event with a twist—or multiple ones, for that matter — that would lead to the big reveal. Our goal was to celebrate and showcase the talents of the magazine teams while also pushing the boundaries of a traditional magazine launch. We wanted to make it a very immersive event and have guests leave feeling confident in the future of media and what's to come. Our event was to take place in the new Barrett Centre for Technology Innovation, a space all about innovation, and we had secured Virtual Reality headsets, Humber College's Pepper the Robot as our door greeter, and a Visual Showcase, a gallery with a similar theme to EMERGE: Unknown.
EMERGE: Unknown pushed every envelope of what had been done by Media Studies students at the University of Guelph-Humber. It was part-networking, part-trend-spotting, part-celebratory. These three pillars encompassed our vision of focusing on the past, present, and future of media.
We used our network, skills and ingenuity to create a budget-friendly event that anticipated over 100 guests from various media industries.
Where does it go from here?
Media outlets are constantly evolving. The focus on the past was celebratory. The study of the present left room for inquisitive minds. And the look to the future left the book unknown. Where would the media take us next?
Although we didn't get to see our event come to life, we hope that our efforts left room for continued dialogue and conversation. EMERGE: Unknown was not just a one-off — it's a concept, an idea, and a vision that could be adapted, and executed by students at The University of Guelph-Humber for years to come. Our story was only just beginning.