Colleagues praise former director's contributions to college media and the CMA
From CMR staff reports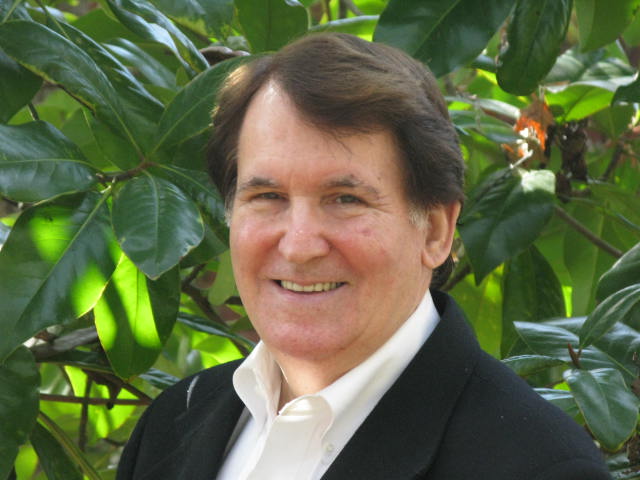 Ron Spielberger — called "Mr. CMA" by many admirers — has died, the College Media Association announced today.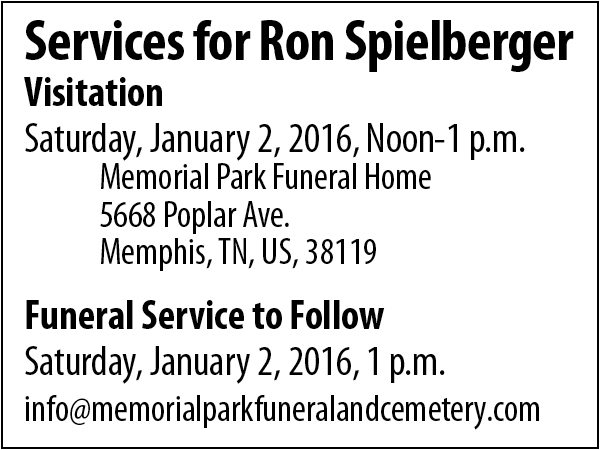 "We are heartbroken to hear of Ron's passing," Kelley Lash, CMA president, said. "Ron was the consummate gentleman, a kind soul and a wealth of information, advice and support."
Spielberger served as CMA's executive director for almost three decades, 1982-2011, CMA's longest serving executive director.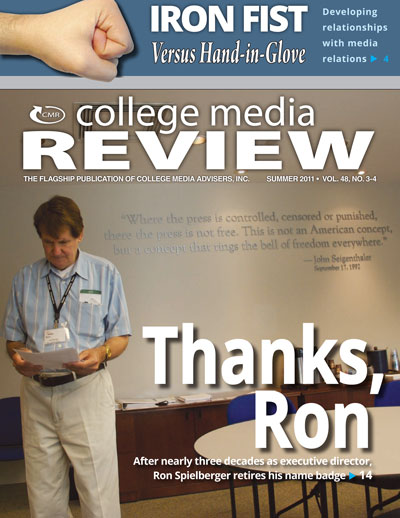 Spielberger was a frequent contributor to College Media Review, often contributing research articles that were the results of a long time collaboration with former CMA President Lillian Kopenhaver as they gathered information and explored the impact of college media programs nationwide.
"Serving CMA as executive director for nearly three decades, Ron was the face of CMA for many, working behind the scenes to make sure the spotlight was focused on issues of importance and on the work of others," said CMR Webmaster Bill Neville, former CMA treasurer. "He seemed to treat CMA like family, knowing families squabble at times but still pull together for the good of all."
In the executive director position, he coordinated numerous fall and spring conventions, summer workshops and other association events. After leaving the position, he continued to serve CMA by chairing the Hall of Fame committee, serving on the advisory council and presenting sessions.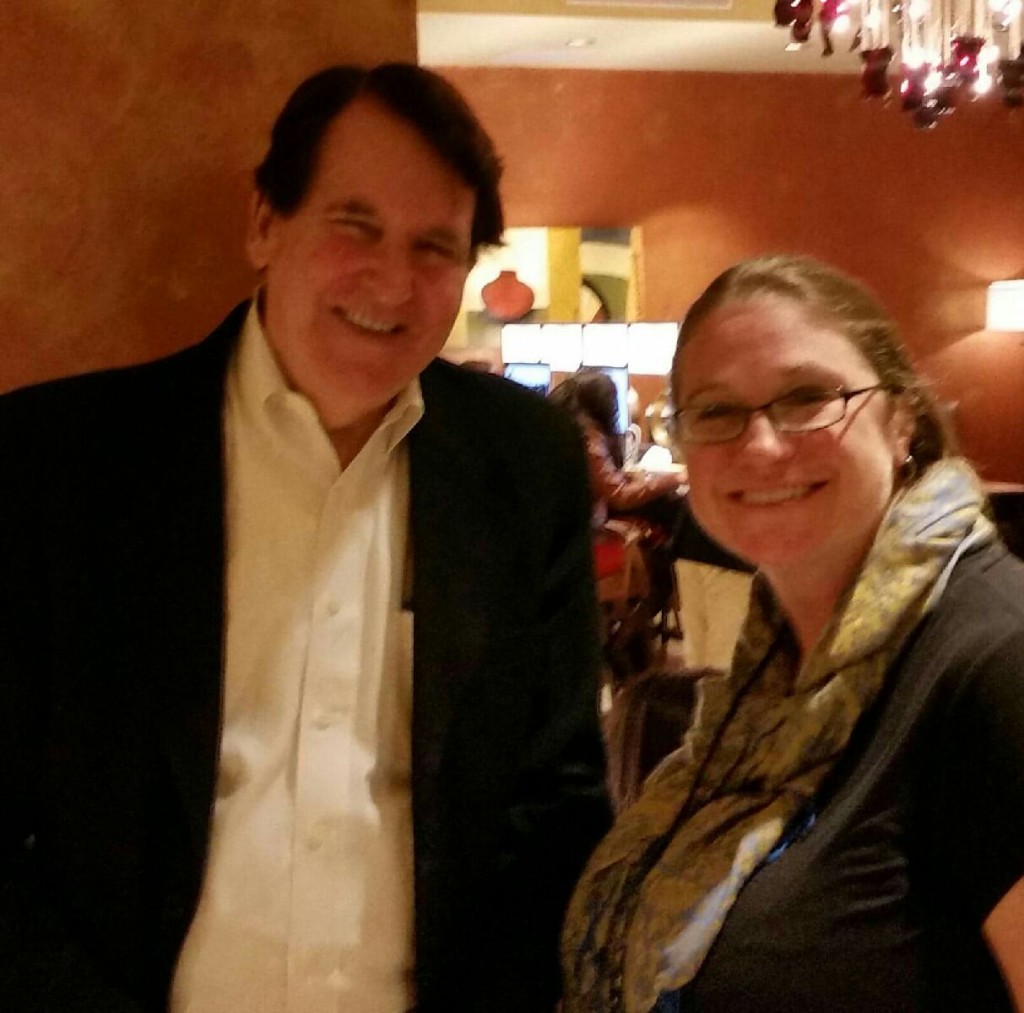 "If you asked Ron Spielberger what his job was with College Media Association, he'd smile and say, 'I'm in the making people happy business,'" Neville added. "Ron made it look easy. Juggling the needs of members, convention management, and innumerable behind the scenes details often taken for granted, while remembering that our members are advocates for the student journalists we serve. Ron did what he set out to do — he made people happy."
"When I first became a committee chair, Ron was there to answer all my questions with patience and understanding," Kelly Messinger, CMA vice president, said. "His kind manner and easy-going style made him a pleasure to work with. His attention to detail and organizational skills kept CMA on track for many years. He was a great teacher to me and to many. He will be deeply missed."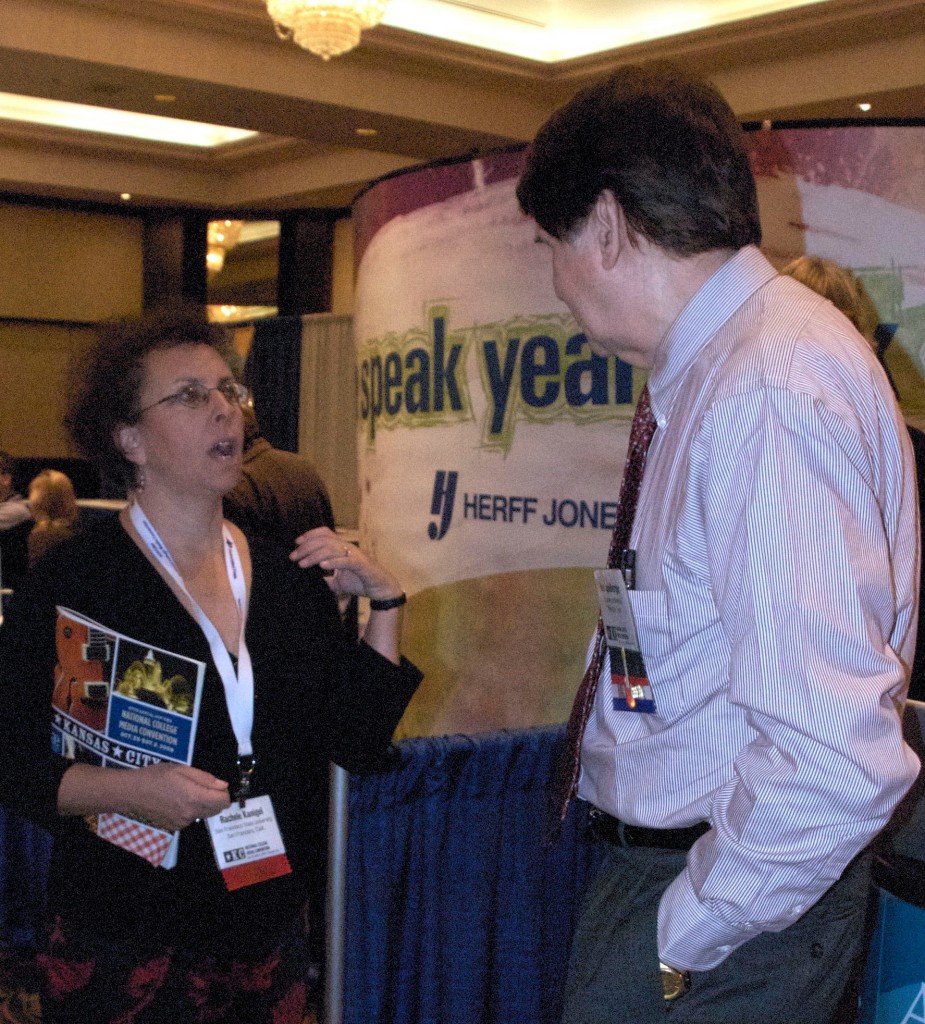 Spielberger was named to the CMA Hall of Fame in 1998, and in 2002 CMA established the Ron Spielberger Service to CMA Award. The award is presented to members who "have advanced the quality of member services provided by initiating or executing enhancements to CMA conventions, workshops, publications, advocacy, operations and/or new programs."
"Ron carried the torch for College Media Association (previously College Media Advisers) for nearly 30 years," CMA Immediate Past President Rachele Kanigel, who served on the CMA board as secretary when Spielberger was executive director, said. "He led the organization through a time of great upheaval in the college media field. As director of our spring conventions he was always calm and unflappable. We will miss him greatly."
Many advisers posted messages on the CMA listserv and on social media to salute the journalism educator.
Spielberger was a role model and mentor — "Mr. CMA," according to David Swartzlander, of Doane College and former CMA president. "Ron helped countless advisers, including me."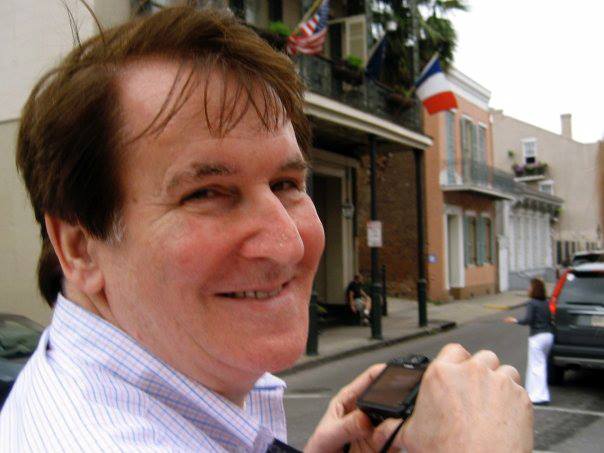 "Only weeks before the 2005 fall convention we learned that our hotel in New Orleans could not accommodate us. I vividly recall on this listserv the fluid messages of concern and worry, many uncertain if CMA would even have a 2005 convention," said former CMA Board Member David Levy.
Relocating a CMA convention to Kansas City after Hurricane Katrina shuttered New Orleans seemed like another day at the office for Spielberger, said Levy.
"How did this guy do it? Like picking up a baby and then setting it down into a playpen, this guy lifted this entire convention with his two bare hands, moved it over to Kansas City, and carefully placed it back down all intact, all in one piece, and without ever skipping a beat."
David Simpson, of Georgia Southern University, recalled, "Ron was so welcoming when I became an adviser with zero advising expertise and near-zero budget. He made it possible for me to get to a Summer Workshop, the first of many kindnesses."
Noted John DiCarlo, of Temple University, "Ron was my first point of contact when I joined CMA as a young adviser who was weeks removed from being a sports writer. He was warm, friendly and helpful."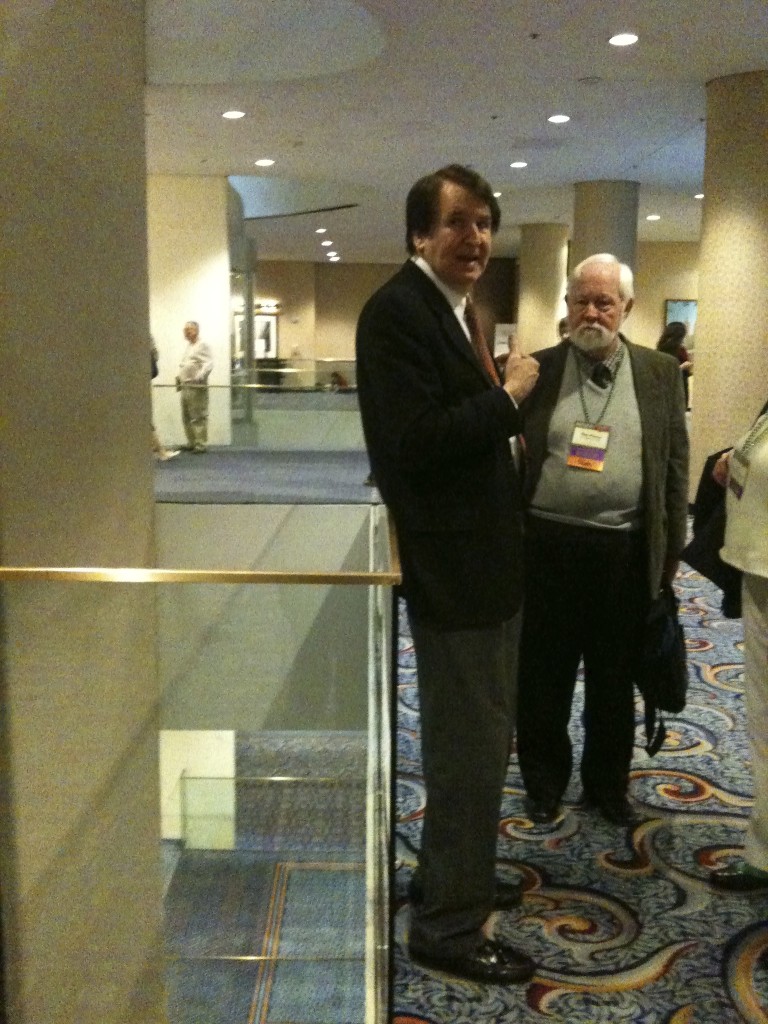 "Ron had so much institutional knowledge, so much understanding of college media and so much of everything I ever wanted to be in college media. Whenever something was blowing up on the listserv or I was in a jam, Ron always would privately email me with the most perfect advice or some crucial information," said Vince Filak, former CMA vice president.
"I won't know what it will be like to go to a convention and not see him gliding through a ballroom or checking in on some one or some thing," he added. "My heart aches for his family."
"This loss is a tough one to take. As others have said so well, Ron Spielberger was the continuity, the bedrock, of College Media Advisers. Officers pushed and pulled and came and went. But Ron directed the organization for the long term. He managed budgets and pinched pennies to ensure our financial stability. He made sure each and every member was served. He welcomed hundreds of new advisers into the fold, and he assured them that when the rough waves came, as they surely would, CMA would be there," said Ron Johnson, former CMA president.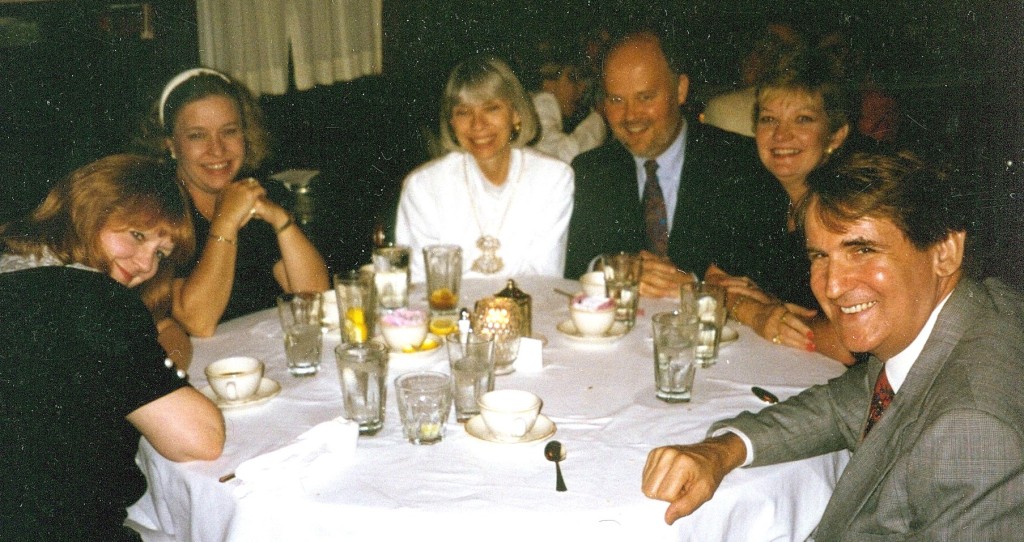 "When I became an officer, and email first took over our lives, I signed 'Ron J.,' lest someone confuse me with 'Ron S.' But when that did happen, what a compliment it was," Johnson added. "Ron Spielberger showed us all how to collaborate, and how to help each other. I miss him already."
"I was lucky enough to be one of those advisers who learned the basics of how to do this advising thing the right way, and then I got to learn from him as I became a leader in our organization. By that time we were fast friends. I loved just hanging out with Ron at dinner or at the evening festivities or at a booth or anywhere really and just chat with the man. He was the nicest, kindest person I know, a southern gentleman, unlike us rowdy Texans, but he liked me nonetheless. And I'm a better person because of that," said Mark Witherspoon, former CMA president.
"He was the last person I talked to as I was leaving the Austin convention on Halloween day. He was sitting in the lobby reading the newspaper. I made a point to stop and talk to him and give him a hug before I left. I'm so glad I did. I adored him and will miss him so, so much," said Laura York Guy, former CMA vice president.
"Ron always was the voice of reason. He nurtured and guided so many board members throughout the years–he was CMA's historian, bedrock and conscience. There will never be another like him. Generous with his time and compassionate about the organization. We have all lost a dear, dear friend. Louis Ingelhart, James Tidwell and Ron – holy trinity of long-time CMAers," said Laura Widmer, former CMA president.
"Not only was he unselfish; he was self-less. He made everything look easy and ran it all with no fanfare, and wanted no credit. But for him, many a convention or workshop or board meeting would have been ripe showing their cracks. He was our glue," said Linda C. Owens, former CMA board member.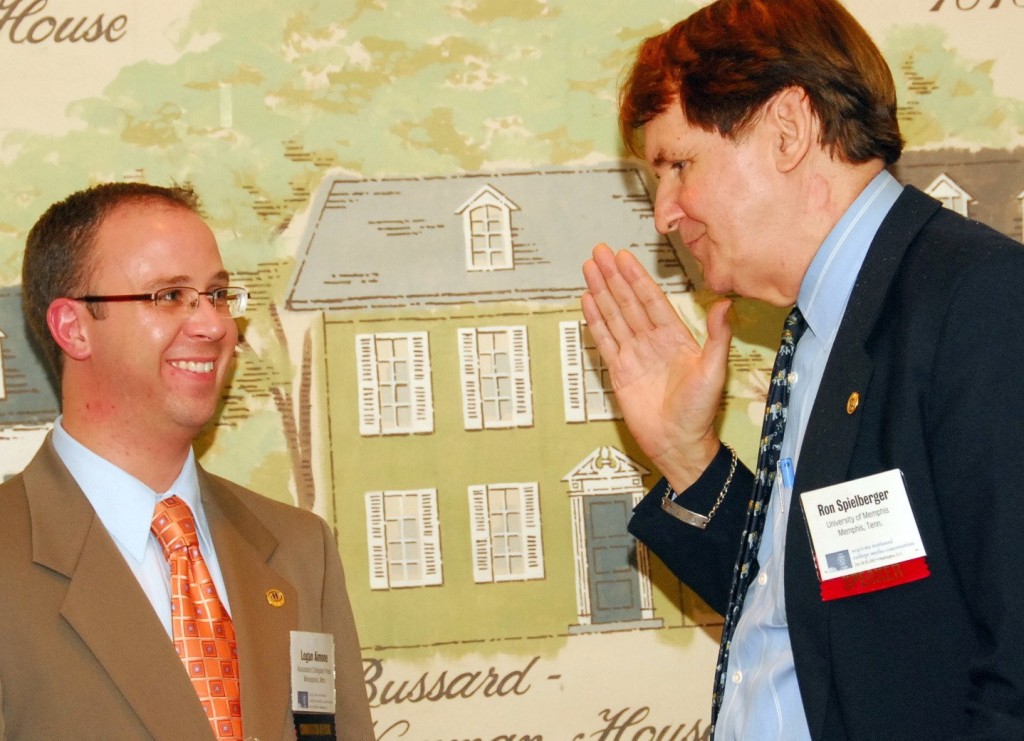 "Ron Spielberger was one of the nicest, most decent people I ever worked with, and I always enjoyed our conversations — about both work and other topics. We spent a lot of hours together, and he always had a smile, positive attitude and time for friends," said ‪Logan Aimone‪, former executive director of Associated Collegiate Press.
"He was one of the good guys, without the white hat. He always had a smile, no matter how hard the job, and always a nice word for everyone. He was a true gentleman, and someone with whom I loved working on research projects which would benefit CMA. He always thought of the advisers and how the information was going to help the members. This is a heartfelt loss for all of us," said Lillian Kopenhaver, Spielberger's longtime research collaborator
"Former University of Texas newspaper adviser Richard Finnell and I worked together several years ago heading up a student newspaper that covered the national AEJMC convention in San Antonio," related former CMR Editor Robert Bohler in a tribute column at the time of Ron's retirement. "One of the few pleasurable memories from that experience was running into University of Memphis professor Ron Spielberger. Not CMA executive director Ron Spielberger, nor convention director Ron Spielberger — just the advertising prof.
"Know how I knew the difference?" Bohler asked. "His lanky frame appeared about two inches taller, and I suspect that was because the weight of a national convention wasn't resting on his shoulders."‪
"What a loss for collegiate media. He was one of the first people I met when I began my collegiate media career and was supportive and helpful," said Joe Hedges, Murray State University.
"Ron is a huge part of why I'm involved in CMA. He was so welcoming and encouraging to me when I attended my first meeting to discuss presenting. My thoughts and prayers go out to his family," said Kenna Griffin, Oklahoma City University.
‪"I am so saddened to hear of the loss to us all of our friend Ron Spielberger. He was good and kind and fine. He loved both students and advisers and demonstrated that love in every connection made. Ron saved us from ourselves at board meetings, business meetings and behind the scenes. He was always ready to share a laugh in particular when he 'hauled the Hall.' During my leadership days with CMA, especially in times of trouble and challenge from inside and out, Ron was always there to suggest an adult beverage. My heart goes out to his family. Miss you my friend," said CMA Past President Jan Talbert Childress‪.
"A great loss, yet we & our students were fortunate to have had him in our lives," said Bill DiNome, University of North Carolina at Wilmington.
Jody Beck of the Scripps Howard Foundation Wire said that just last week, she and Spielberger had exchanged emails about how he was looking forward to easing into retirement. "He was a source of help and information when I first joined CMA," she said.
"I echo Jody. It's not overstating the case, I don't think, to call him 'Mr.CMA' for all those years," said Swartzlander. "He truly will be missed. My condolences to his family."
Spielberger died Saturday, Dec. 26, when treatment for a stroke triggered a massive heart attack. He had hernia surgery Dec. 18. He was 74.
He is survived by his wife, Debbie, and daughter, Robin, both of Memphis, Tennessee.
A college educator for nearly five decades, Spielberger was an associate professor in the Department of Journalism at the University of Memphis. He was on the board of directors of the Memphis Advertising Federation and was an active consultant and judge for various companies.
The Professor Ron Spielberger Memorial Journalism Scholarship has been established at the University of Memphis. To donate, go to www.memphis.edu/give and designate the gift to the "Professor Ron Spielberger Memorial Journalism Scholarship" fund.
Spielberger's life recalled in obituary in Memphis Commercial Appeal and in an obituary on Legacy.com..