The Alestle at SIU-Edwardsville keeping tabs on presidential campaigns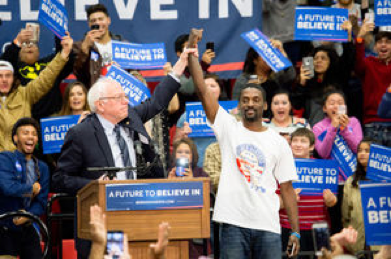 ---
Covering presidential campaigns can be an "invaluable experience" for student journalists, promoting staff collaboration and providing important content for college media, according toTammy Merrett, who advises The Alestle at Southern Illinois University-Edwardsville, a university with an enrollment of about 14,000 students and about 23 miles from St. Louis. Merrett, a college media adviser with 19 years of student newspaper advising experience, has worked in the field as a professional journalist–both as a reporter and editor–since 1986.
"The staff plans to continue its periodical coverage of the presidential campaigns as Election Day quickly approaches," Merrett said. "During this season of presidential campaigning, The Alestle  has kept up with the latest issues regarding the candidates as they battle for their parties' nominations."
Among other things, Merrett said the students:
Collaborated on editorials about Republican front-runner Donald Trump, scrutinizing his statements and methods.
Covered a rally hosted on their university's campus for Democratic candidate Bernie Sanders, ultimately compiling a news article and photo gallery. The staff ran into difficulties, she said, attempting to live tweet the event, for the amount of people in attendance greatly limited access to Wi-Fi in the stadium.
With SIUE's close proximity to St. Louis, two Alestle staff members covered a Trump rally there, as well as an event for Democratic candidate Hillary Clinton, the weekend before the Illinois and Missouri primary elections.
The Alestle has a weekly print edition and weekly online-exclusive edition in the fall and spring semesters, as well as summer editions.
Here are examples of the students' Trump coverage:
---
General voting op-ed: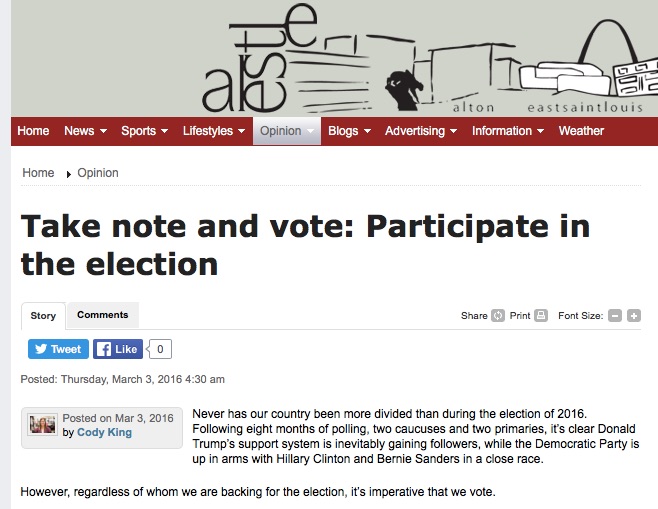 http://www.alestlelive.com/opinion/article_f60d74e0-e0c0-11e5-a6dd-4711792a4209.html
---
Bernie Sanders coverage:
http://www.alestlelive.com/news/article_ca8d2c6e-e27a-11e5-bb67-c32deaa286bb.html

---
College Media Review will continue through the November election to publish examples of political reporting—print, broadcast and web-based–by college journalists throughout the country. Advisers who would like to share their students' political reporting should e-mail Debra Landis at dland2@uis.edu for more information.