Why location is critical when planning a college media convention
By Kenna Griffin
Oklahoma City University
Location! Location! Location! I've heard it before, but I would not have believed how important location is when planning a college media convention until I saw it with my own eyes.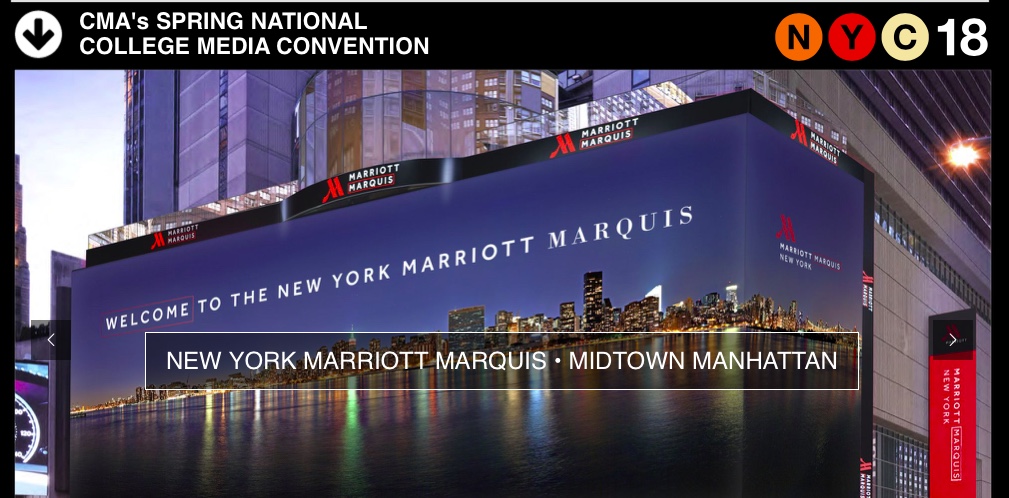 CMA's spring national convention in New York was my first as a board member. I've seen evaluations for other collegiate media conventions and have been on planning committees, but I still was surprised how often location played into the feedback we received about #CMANYC18.
New York is an exciting, inspiring place, which was reflected in all of the positive comments about the convention's location. Location is key, and several attendees said the convention being in New York was their favorite aspect of it. Airlines panicked about a winter storm that really wasn't much, which caused some attendees travel problems, but the positive feedback was much greater than any grumbles about travel woes or expense of the city. Aside from feedback on the location itself, there were two specific areas of feedback in which it was important: 1) networking and 2) speakers.
Networking
Attendees gave feedback on opposite sides of the spectrum when it came to networking. They either said they loved all of the networking they were able to do with other students and advisers from across the nation or they wish they'd had more of an opportunity to network. It's clear either way that the relationships made at conventions are important to attendees. These relationships help us learn from each other and feel supported. It's nice to know we're all in this together and to get help from others who have faced similar challenges.
Those who didn't see opportunities for networking clearly felt they had missed out. They commented about how they wished there were more organized networking opportunities. Advisers also lamented their students only hanging out together instead of meeting other student journalists from across the nation. I related to these comments because I've found myself in the past organizing dinners with adviser friends and their staffs to forge these types of connections among students.
Other attendees talked about being able to network with professionals, attend amazing tours and see others they knew working in the industry in New York. The city certainly is a mecca for media, so it makes sense that location plays a key role in creating and encouraging professional networking opportunities.
Future convention planners should think carefully about the unique opportunities every location offers for networking outside of the convention. Yes, students learn inside the hotel at sessions, but they also learn through convention experiences outside of the hotel walls. Media tours are specifically desired by student attendees, one of whom reported that a New York tour was life changing.
It's also important for future convention planners to think creatively about networking opportunities. Advisers have organized events like adviser sessions, receptions and cocktails to network with each other, but how can we create sessions or events specifically geared toward getting student attendees to break out of their own staff groups? For students who do this, the conventions become much more valuable.
Speakers
Perhaps not surprisingly, attendees raved about the variety of professional speakers at the New York convention. It's not shocking that New York has a plethora of media professionals to draw from. Attendees enjoy learning from advisers, but they flocked to professional sessions and frequently named professional speakers' sessions as their favorites at New York convention.
Of course, reviewing convention feedback has taught me an important lesson about convention speakers—attendees will both love and hate the exact same presentation. This divisive experience is especially true when it comes to keynote speakers. Attendees either love them or hate them, with little feedback given in between. Knowing this about speakers makes it important to have a variety of speaker choices and topics during every available time slot. It also means future convention planners should focus on the quality of a keynote speaker's content, not necessarily on attracting a big name. Of course we are drawn to the names of famous speakers, but my favorite keynote speaker at #CMANYC18 was Joanne Lipman, who I had never heard of before the convention. Many other convention attendees reported enjoying Lipman's keynote, but few called her by name, suggesting what she said was much more important to them than her job title.
Future convention planners should take advantage of all of the professional speakers New York has to offer and call on the professional networks of its membership. After all, the who of each location is what separates one convention from the next. Embracing local professionals and advisers who are unique to each individual convention will help provide value to those who attend multiple journalism conventions, including CMA's in fall and spring.
Overall, I'm proud to say that my first spring convention as vice president was a success. Attendees enjoyed the location, networking and speakers provided. Of course there are things we will look to improve in future conventions, but improvement is the purpose of feedback. I hope all of you who attended the spring convention enjoyed it. Please don't hesitate to contact me with specific feedback or to learn more about helping plan future conventions. I look forward to learning and sharing with you.
---
Kenna Griffin is an Assistant Professor of Mass Communications and Director of Student Publications at Oklahoma City University. As Director of Student Publications since 2003, Griffin advises Oklahoma City University's student newspaper, The Campus, as well as the publication's online version, MediaOCU.com.Griffin is the writer behind ProfKRG.com, which serves as a practical resource for student journalists, and is the host of the weekly #EditorTherapy Twitter chat, with the goal of helping student editors become the leaders they want to be. Griffin, a long-time CMA member, served the organization as a member of the First Amendment Advocacy Committee before being elected in November 2017 as Vice President. Griffin was elected in April 2018 to serve as President-Elect. She will take office as president-elect in October. She will serve a one-year term in her position as President-Elect before being sworn in as President in 2019. You may reach Griffin via email at kennagriffin@gmail.com.