Storytelling still at the heart of journalism
By Andrea Frantz
Buena Vista University
If I've learned anything in my 30 years of teaching journalism, it's that change is hard, but inertia will be the death of any academic program.  What I teach today, at its heart, hasn't changed a lot. Journalism has always been about great storytelling.  But it looks and sounds a lot different.
A 2018 Washington Postarticle by Christopher Daly, posits the seismic changes we have seen in the journalism field in the last couple of decades are not all dire.  According to Daly, "NPR is having a banner year, as are MSNBC and Fox News. The New York Times,The Washington Post and the Wall Street Journal are reporting record numbers of digital subscribers…Podcasting, which did not exist as a career five years ago, is exploding."
In fact, it's the podcast explosion that brings me to my own embrace of change.
A few years ago, a beloved colleague retired.  It happened that he had long taught audio production and photography for our digital media program.  Like the field for which we are preparing students, higher education is also doing its own belt tightening, so we learned quickly that his line would not be replaced. Instead, our remaining faculty would need to adjust and do more with less.  You know what's coming next, right?  This is how I narrowly avoided professional stagnation.  My hard change involved becoming the "audio production person" for our program.
Armed with little beyond a listener's appreciation for all things NPR, I dove in.
Learning the tech
Despite my trepidation, what I quickly figured out was that learning the tech was the least of my worries. Oh, I definitely had my own failures as I experimented with the medium I would be teaching the following semester. In fact, I spent one memorable evening cursing and sweating over how to cut down a 40 minute audio interview to smart clips that made a good four minute narrative. But my initial expectation that I would need to teach my students all of the ins and outs of Adobe Audition or Pro Tools evaporated as I quickly found they could sit at the computer for one session, a simple workflow at their sides (which most didn't even consult), and command at least a practical application proficiency. Gen Z students have an expectation that they will teach themselves how to manage technology.
I offered my students introductions to the radio production room, Tascam DR-40 field recorders, and a basic introduction to audio editing software.  On the tech front, they left me in the dust quickly, and frankly, that was a relief.  My focus was on the storytelling front.
Learning the literature
I have long been a believer in teaching by model.  When I taught journalism writing for print, my approach was to find the field's best examples, and challenge students to analyze whythe lede worked, or howthe journalist layered voices or broke down numbers for a lay-audience. While not a canon, per se, most journalism students haven't been exposed to the body of work honored by the Pulitzer Prize Board.  Thus, assigning them to read Lane DeGregory or all of the public service award finalists in a given year inevitably introduced them to work they've never read.
The same can now be said for great audio journalism.  With more than a half million audio shows (and counting) available, the goal is to introduce students—especially those with little audio storytelling familiarity—to noteworthy work that reflects great research and audience awareness. For example, just this year Rukmini Callimache of The New York Timeswas a finalist for the international reporting Pulitzer with "masterful use of reporting via podcast" in Caliphate. ProPublica's audio of detained children at the Mexican border also garnered a finalist nod for public service reporting.  APM Report's In the Dark Season Twois a finalist for a 2019 Peabody Award.
I eschewed a textbook how-to approach in favor of a podcast listening list that reflects the variety of storytelling techniques and enterprising journalism I was after from my students.  APM Reportsand NPR's Serial, were at the top of the heap, but the rest of the entries also offered formidable breadth and depth. Among many others, I assigned episodes of Invisibilia, This American Life, On the Media,More Perfect, and studied what Transom creators have to say about audio storytelling techniques. My students have routinely noted their surprise and delight at the diversity of offerings assigned as listening homework, though several have cursed me for "addicting" them to a show or series.  Notably, I rarely heard the same about reading I assigned, and they could never take their reading homework into the shower with them.
Re-learning storytelling
I figured out quickly that my goal wasn't to produce sound engineers or radio broadcasters, though certainly, those are worthy professions and some of my students have gone those routes. The new jobs my students are looking at on LinkedIn and other employment search sites are digital media creator roles that include podcast production.
When I was preparing to teach audio production, I began by listening to Story Corps, so this is where I chose to start my introductory class. In terms of production values, Story Corps narratives are simple.  They consist of about three minutes of one or two voices and a bit of music as either segue or bed. I challenge students to figure out how they might coax a simple, but powerful, story from a source and we work through interviewing techniques and interpersonal skills.
Audio journalism relies on the same building blocks as any other journalistic storytelling: a great hook; timeliness; credible sources; a happening relevant to the audience; narrative tension; a beginning, middle and end.
The difference is that audio journalists engage the listener more overtly and intimately.  For example, the reporter's voiceover is often conversational, even occasionally offering personal asides and glimpses into the information gathering process. And creating scenes with natural soundscapes puts the listener in the field of action.
So, I had to train myself to think of the story elements with my ears: nat soundsto enhance proximity, music segues as punctuation and emotional cues, voiceover narration as the reporter's credibility card.
If you'd asked me even six years ago whether I could be excited about ordering new Rode compact wireless mics or know the importance of bit depth and sample rates, I would have laughed.  But though change is hard, grappling with it head on is invigorating. And lifelong learning is the purview of both journalists and educators.
---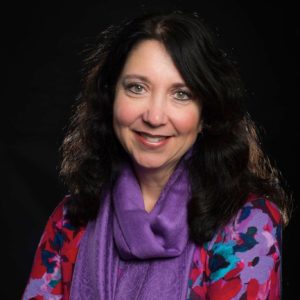 Andrea Frantz is a Professor of Digital Media at Buena Vista University in Storm Lake, Iowa, where she teaches audio production, photography, and media law.  In addition to teaching and advising the student radio station, Dr. Frantz also serves as national Executive Director for the Society for Collegiate Journalists.  The organization is the oldest student media leadership honor society in the country.