A-STATE HERALD PUBLISHES TRIBUTES FROM STUDENTS, COLLEAGUES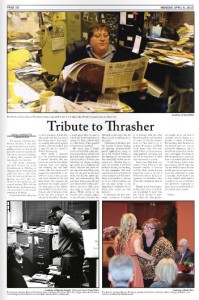 College Media Association Vice President Bonnie Thrasher, 53, of Jonesboro, Arkansas, died March 31, 2015 at her home.
Born July 7, 1961 in St. Charles, Missouri to Bill and Beverly Thrasher, Bonnie resided the last 22 years in Jonesboro after spending time in Tuscaloosa, Alabama and Starkville, Mississippi where she attended college and graduate school. She was of the Baptist belief.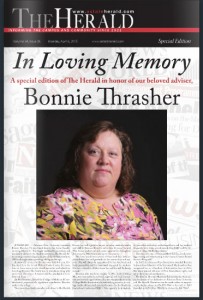 She was a member of the Arkansas State Media Board and adviser to the A State Herald. She served the national College Media Association in numerous volunteer positions, as secretary, treasurer and as Vice President at the time of her death.  Continue reading "Bonnie Thrasher, 1961-2015: CMA vice president"