… it just might take three years
By Steven Chappell
Director of Student Publications
Northwest Missouri State University
---
We have spent the past three years working hard to converge our student media operations, which include a yearbook, newspaper, radio station and TV station.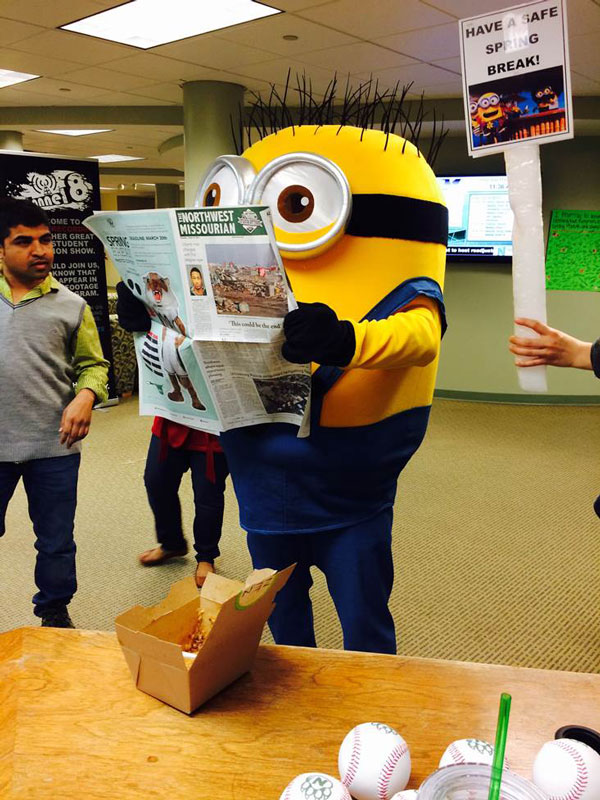 Part of that process has been convincing the students that it is in their best interests to work together and cross media to better position themselves for employment post-graduation.
We've worked on several initiatives in that time, but the most effective has been our Student Media Day, which coincides with the weekly printing of our student newspaper, The Missourian.
We distribute copies of the student newspaper with "Town Criers" in our student Union every Thursday from 11 a.m. to 1 p.m. The radio station, KZLX 106.7 LPFM, broadcasts live during that time frame. Yearbooks are available for pickup. And the TV station records a live news talk show from 12:30 to 1 p.m. called Cat Chat. The show airs live over the radio station during the recording, and is rebroadcast on KNWT Channel 8 throughout the week. All students from all media work together to produce the event, and it has grown in scope each year, with this year's event distributing 1,500 copies of the paper each week, or one-third of our weekly press run, in those two hours.
I think the major lesson the students learned was that, despite the differences in platforms, their specific jobs weren't all that different from each other, and as a result, collaboration made their jobs easier.
It wasn't "another outlet stealing our work." It was "we scratch your back, you scratch ours" instead, which had been hard to convince them of in previous years.
The lesson I learned was that sometimes, it takes three years to drill that into a student's skull.